Every parent wants their child's birthday party to be memorable, be it their first birthday or their sixteenth. As such, birthday parties have become a big deal these days. Simply giving gifts, wishes and a few balloons just will not cut it.
So the question now is; how does one organize an unforgettable birthday party without all the unnecessary hassle?
Fret not, because The Fun Empire has got you covered. We are all about celebrations and celebrating right.
We have put together our top 6 tips to ensure that your child has the best birthday party ever.
1) Decide on a Budget
Image taken from https://thesavvycouple.com/budget-templates/
Having a fun-filled day is the utmost priority, so do make sure that all necessary costs have been factored in and taken into consideration; in order to avoid unplanned costs spiralling out of control and ruining the party. You can start off by using an Excel spreadsheet; decide how much you are willing to spend, then break down all the different sections of spending such as, food, entertainers, decorations, etc.
Bonus tip: If you wish to save more, consider having a joint party if your child's friend is also having a party. If their party date is close enough, consider communicating with their parents about a combined party. You might have to combine themes in order to make it work for both kids. Do ensure to go over the budget and planning with the other parent to ensure that each side pays fairly.
2) Guest Lists
Image taken from https://www.123rf.com/photo_96900786_handwritten-text-sign-showing-guest-list-conceptual-photo-planning-wedding-or-event-important-guests.html
Unlike most birthday parties, more does not necessarily translate into merrier for a children's birthday party; it is a numbers game. Any number of children is acceptable as long as there is adequate adult supervision. Make sure that there are enough parents engaged and involved in the activities, instead of just sitting around and chatting among themselves.
Bonus Tip: Always have a RSVP list and remember to keep track of it, including any special requests such as dietary requirements.
3) Pick a Theme
Image taken from https://www.munamommy.com/15-fun-birthday-party-ideas-for-girls/
This can be based on your child's favourite subject such as Star Wars or The Hunger Games. Having a theme revs up the fun factor almost instantaneously. You could base the theme on a popular movie or season such as a Christmas-themed birthday party, depending on what your child likes. Hence, it is important to keep your little one involved in the planning process so that they will feel special and look forward to their party.
Bonus Tip: To spice up the party even more, you can consider having a themed costume competition whereby the winner will be chosen based on how well their costume matches the theme.
4) Pick the Location
Image taken from https://thespruce.com/birthday-party-venues-for-kids-2104681
The chosen location dictates the kind of activities that your guests will participate in. Where the birthday party is held will be dependent on the age of your child and that of your guests.
Bonus Tip: Hosting the birthday party at home is a cheap way that allows for ease of mind in terms of safety because of the controlled environment. However, this also means more preparation and cleaning up afterwards.
5) Entertainment & Games
Image taken from https://www.care.com/c/stories/4243/20-birthday-party-games-for-kids/
This could include clowns, magicians, a bouncy castle, etc. Just make sure that your child and all party guests are entertained, including the parents. You can also plan games and activities related to the theme of the party in order to make things interesting.
Bonus Tip: You can consider hiring an events coordinator and team to help plan and look after your child and the guests, while you and the other parents also have fun chatting and mingling with each other. Just make sure that everyone present at the party is involved in some way.
6) Catering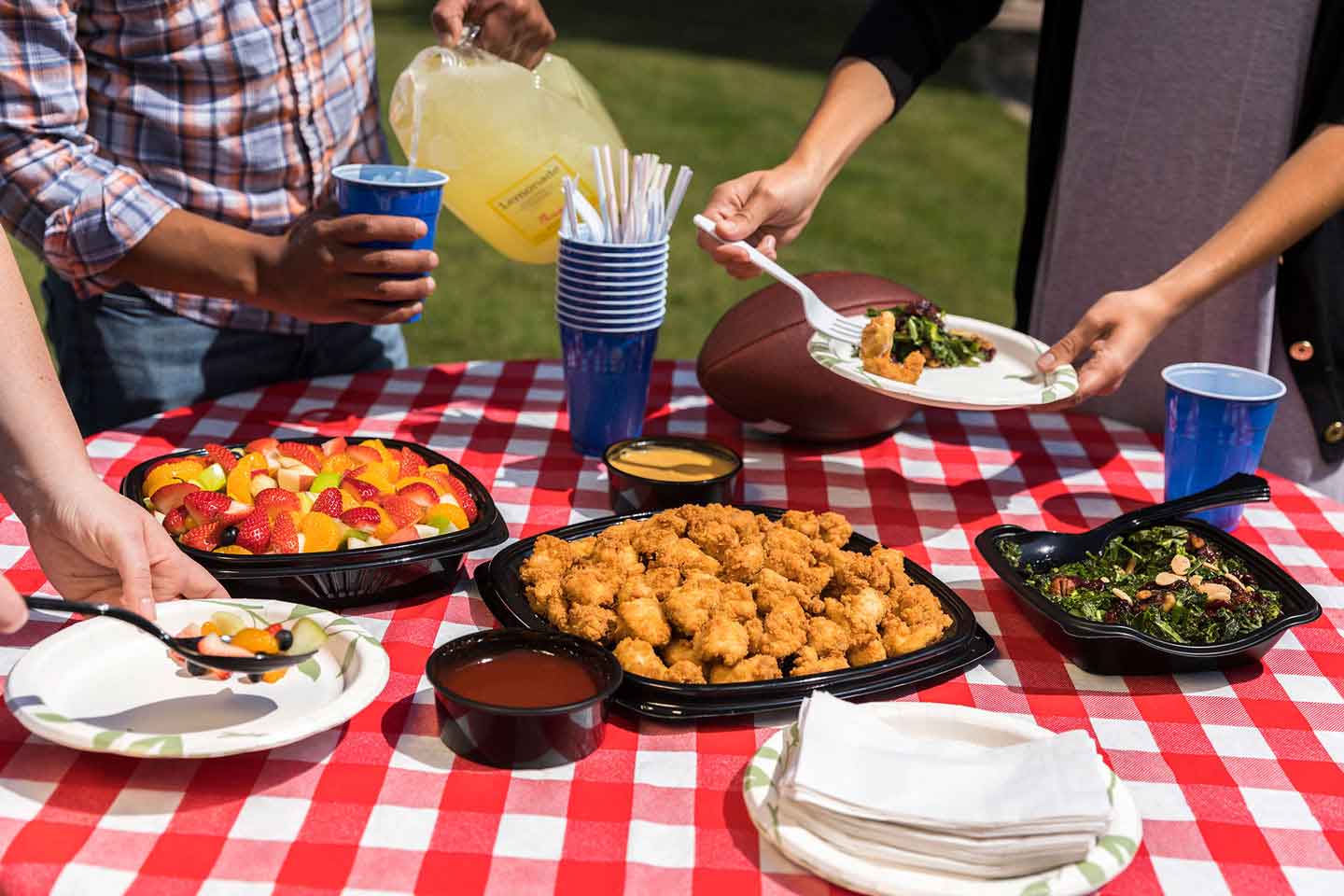 Image taken from https://thechickenwire.chick-fil-a.com/food/feeding-a-crowd-chick-fil-a-has-you-covered
It is always important to keep allergies in mind. This can be done after getting all the RSVPs. To make things easier, you can have a mini DIY food bar where the guests get to assemble and pick what food they like. Remember to also cater to your child's age group. Example, if you are hosting preteens, they would most likely prefer pizzas.
Bonus Tip: To cut costs and help in convenience, you can consider choosing foods that can be made in bulk such as spaghetti or a taco bar. The timing of the party also matters. If the party is during noon or around six o'clock, you will need to feed the guests a full meal. However, if the party is between two and five in the evening, you will only need to provide light snacks for your guests.
With all that being said, the list can look a little daunting for some people. Hence, one can consider outsourcing and working with an events coordinator to help out with the planning and execution. 
For more information, visit https://www.thefunempire.com/birthday-party/