8 Beautiful Acrylic Painting Ideas For Beginners
April 17, 2022 by The Fun Empire Team
So you've taken an interest in acrylic painting and you've perhaps signed up for an art jamming session. However, the problem now is that you don't know where to start; you don't know what to paint!
Fret not, because we're here to help you out with that!
If you're as much of a fan as we are, or you want to try acrylic painting for the first time, we've gathered some of our favourite acrylic painting ideas that you can try at your next art jamming session!
Check it out and get inspired.
1) Gemstone
Image retrieved from https://decoart.com/project/purple-crystal-painting
Grab a canvas and turn it into a diamond!
You could draw shapes on your canvas, then fill them in with diamond-esque design! Try using different shades of the same color for each diamond; it'll add dimension to it, making the diamond look realistic.
This gemstone painting can take a little bit of patience, but we also found the process super satisfying and the end result is well worth the time.
2) Abstract
Image retrieved from https://www.pinterest.com/pin/479492691550771090/?lp=true
Abstract painting makes a great addition to your living space and is a fun way to explore colour and form.
To execute this flawlessly, all you need to remember is just to use complementary colors. This is to ensure that your painting looks coherent and easy on the eyes; that every color blends harmoniously together.
Afterwards, you can just go crazy on the different types of techniques used to create your masterpiece! It's abstract art after all, no limits.
However, do take note that you might want to practice in an art journal or on some spare paper before taking colour to canvas, but do what works best for you.
3) Tropical Plants
Image retrieved from https://www.pinterest.com/pin/109212359686456828/?lp=true
Here's one for all those nature lovers out there. Bring the outdoors indoors with a tropical plant painting!
Since you'll be using a lot of green, painting this would be very soothing on the eyes; because it is known that green is a calming color.
For that extra "wow" factor, add some gold accents on to the leaves to create more dimension.
4) Field of flowers
Image retrieved from https://www.amazon.com/Lavender-Painting-Abstract-Stretched-Colors/dp/B015GPY0AE
Flowers are a great place to begin because they're fairly easy to get right. They're very beautiful to look at and are usually recognizable even if they're a bit … abstract.
Additionally, they'll help you grow your skills as your progress from simple variations to more complex ones.
Whether it's poppies or sunflowers, painting a field of your favorite flowers will allow them to last a lifetime.
5) Still Life
Image retrieved from https://www.pinterest.com/pin/74520568808453202/?lp=true
It might seem like still life paintings are something best left to the master painters of the 18th century, but the style is actually accessible to beginners as well.
It's all about how you approach it; creating a still life relies on painting basic shapes in different colors and perspectives. If you can draw simple shapes and understand shading, you're well on your way to success. So go for it!
6) Silhouettes
Image retrieved from https://www.pinterest.com/pin/434527064026459267/?lp=true
When you paint silhouettes, it helps you develop and improve your acrylic skills.
For beginners, try painting an interesting-but-simple background; perhaps with artistic splattering, and then add a simple silhouette in the foreground.
As you progress, you can give both the background and object more detail, but even your very first try is likely to look pretty solid.
7) Three-Dimensional Shapes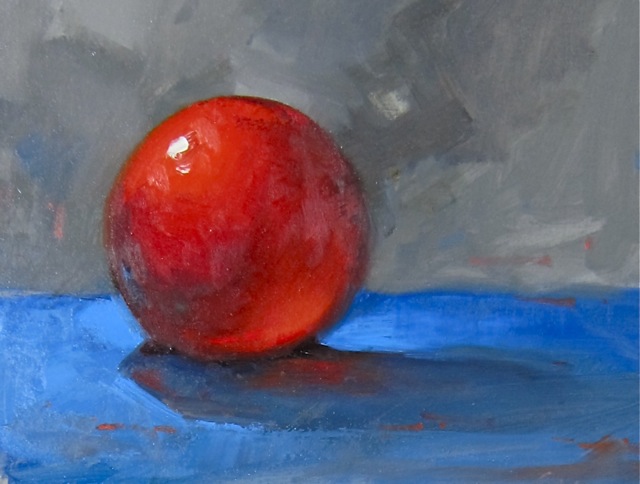 Image retrieved from https://www.lesleyhumphrey.net/lessons-key1-knowledge/basic-red-ball-demo-part-1
If tackling real objects in a still life seems too lofty a goal, you can start by painting basic shapes instead.
This easy painting idea can be a gateway to more involved still life compositions.
Simply start by working with a complementary palette as you explore shape, tone and depth. You're going to be surprised by how impressive something as simple as a cube can look!
8) Landscape
Image retrieved from https://www.saatchiart.com/art/Painting-ACRYLIC-PAINTING-LANDSCAPE/1396343/6846767/view
What better way to get inspired than painting the world around you?
Be it a gorgeous mountainside, autumn cornfield, or even your own garden (if you have one), there's so much beauty to see!
There's something beautiful about the city at night time; ask all the poets, artists, and songwriters who have doted over it.
Get outdoors, draw some inspiration, then set up your canvas, grab your acrylic paints and start creating!
Inspired yet? If you have an idea of what you want to paint or you're just interested in trying out acrylic painting, then sign up for our art jamming workshop! Don't worry about not having any ideas on what to paint, we will provide you with some sample pictures to draw inspiration from. All acrylic paints, paint brushes, and tools will be provided too. So hurry up and sign up now!
Visit https://www.thefunempire.com/art-jamming/ for more information.