Best Costume Rentals in Singapore [2022]
April 18, 2022 by The Fun Empire Team
Costume Rentals Singapore
Finding the perfect costume for any occasion isn't easy. Lots of people who like to wear costumes fear having to buy a costume they have to wear only once. Whether you want to dress up as a prince or princess at your next birthday party, or if you need something more spooky and scary like a witch costume for Halloween parties; there is no shortage of options when it comes to Costume Rentals in Singapore! The best part about costume rentals? They are affordable with many high-quality costumes available - so don't hesitate before picking one out today! For more related articles:
1) Awesome Costumes
Grace is the founder of Awesome Costumes, who in 2012 had won 2nd runner-up in the business category in Yahoo!9 Singapore. An award was given to her because of = her entrepreneurship. Among hundreds of applicants, Grace emerged as one of the top 3 in Singapore. Later on, in 2014 Awesome Creative Studio, Awesome Costumes was awarded SMEs Asia Award 2014/2015. This has assured her that her dedication towards her crafts and clients were appreciated. Currently, Awesome Costumes is embarking on a social arm to empower women, and in time to come, it will benefit them individually and socially.
Awesome Costumes has built an unrivalled reputation as a family-run business providing unique costumes catering to adventurous fashionistas. They offer a variety of themes for all occasions. Whether you want to find something perfect for your stage performance or just love the idea of dressing up, you will be sure to find a great costume for yourself here. If you're looking to rent costumes for your event, Awesome Costumes offers the best deals and provide design customization.
2) Costume City
With costumes for adults and children alike, Costume City offers everything you need to become a superhero. You could be a Spiderman, Batman, the Hulk, or even an Avenger as the company offers a collection of superhero ensembles suitable for both adults and children. Besides that, you can find good fairy tales costumes and cute nurse outfits here as well.
Costume City is a great resource for costume parties, especially when planning with other people. With over 10,000 styles available, they offer all your "crowd-favourites," from serious horror-movie scares to fantasy themes and more.
3) Costume N Parties
Costume N Parties has been recognized in the costume industry for over 20 years, featuring self-manufactured costumes and other accessories. The store claims to have more than 20,000 different collections including props like superhero shields and magical costumes. With Costume N Parties, you can either walk into their showroom or hop onto their website to find the costumes you need.
4) Custom-made Costume and Merchandise
Custom-made Costumes and Merchandise presents an opportunity to embrace the beauty of classics. If you have a problem with fit or quality, CCM Singapore offers size variety in their brand. CCM's costumes are inspired by new trends and styles, they have everything from party-themed options to glamorous Halloween costumes. With over 50,000 costumes and thousands of accessories, CCM provides the maximum convenience for savvy customers.
5) Moephosis Concepts
Looking for a costume rental service? Moephosis Concepts offers quality costumes and makeup artists along with the expertise to make your event remarkable. The company offers a collection of costumes that have been nominated and won several awards. They carry many boutique costumes perfect for dinners and dresses perfect for dressing up with a mask or wig while going out on a date.
6) Glamourdoll SG
Glamourdoll has the greatest discounts on celebrated gatherings and parties in Singapore. This costume hire is ideal for people searching for party ideas, especially for Indian-themed events. Glamourdoll is the finest location for you if you want to be prepared for everything from makeup and hairstyling to Indian weddings and business gatherings. It provides makeup workshop, hairstyling lessons, makeup party, theme parties and so on.
Glamourdoll provides free fitting and alteration services. Glamourdoll has a variety of superhero costumes as well as belly dance items on sale. Don't worry about what to wear for graduation or a super magician performance. Get ready by Glamourdoll and stand out as a winner in the crowd. They strive to ensure that each customer receives a customized service regardless of the type of costumes hired. With more than 10 years of experience in this field, Glamourdoll has a large number of returning customers and makes many new ones every year.
7) Ministry of Costumes
Do you want to have a heist vibe or be like Shuri from Black Panther? Ministry of Costumes gets major kudos; they provide a slew of choices. Whether you're dressing up for Harry Potter, Moulin Rouge, or just for a birthday party, these experts will assist you. The fact that it's for any occasion doesn't hurt.
The Ministry of Costumes was founded in 2016 and is quickly gaining followers as one of the finest costume rentals in Singapore. Four years later, the store has succeeded in winning the affection of thousands of customers by providing unusual, durable, and beautiful costumes at a reasonable price. The ministry outfit is a safe bet. Furthermore, their pricing is very fair.
8) Costumes and Mascots
If you're searching for a year-round shop for costumes and mascots, look no further. It's one of the smaller shops with a broad range of costumes, including Spiderman, a pink panther, Elmo, and so on.
The personnel at the dress rental shop are courteous and helpful. You will discover a complete-sized mascot outfit at Costumes & Mascots that is tailored to your occasion's requirements. To fit the required size, adjustments might be made. Visit the store anytime to try something new, or give them a call for a price quote.
9) JCM Costume Rental
JCM has everything you could want, having been in business for more than 30 years. When you enter their office, you'll agree that it's one of the finest costume stores. Their skill and a wide selection of choices have allowed them to create costumes for theatre performances, stage plays, and television series.
Popular movie hero costumes, such as Wonder Woman, Harry Potter, Batman, and Superman, are available at JCM. Whether you're searching for historical figures like pharaohs and Cleopatra or '20s-80s fashion, Xmas, Halloween, occupational uniforms, classical cartoons like Snow White and JCM has everything.
They have wigs and props, which you may rent together with the costumes. If you want to bring back a vintage look, JCM is here to help you make your fantasies come true. You're in for a throwback treat with their spy history costumes such as samsui woman, ma jie, and satay uncle, which will bring you back to the roaring '40s and '50s.
10) Pan-In-The-Box
Pan-in-the-Box started in 2003 and is a seasoned costume rental company in Singapore. Their knowledge has allowed them to grow their client base, and they now serve businesses and education institutions for a variety of events. Dinner and dance parties, Halloween, Chinese new year, the end of the year, and many more events are among the occasions that Pan-in-the-Box dress up for. They also service companies, clubs and associations during their events.
The fact that Pan-in-the-Box provides a large selection of costume and cosplay costumes is one of the reasons why it's on our list of the best costume rentals. You will never leave the store without one, whether you're searching for wigs and accessories like bloody knives, severed fingers, or masks. Aladdin and Peter pan costumes are in stock, among many others.
11) Children's Costume Specialist
Then we arrived at the most exciting. They realize how difficult it is for a parent or guardian to look for their child's costume at Children's Costume Specialist. The company specializes in children's costumes and has no age restrictions. As a result, all of your concerns will be addressed, giving you peace of mind.
Whether your child wants to dress like a superhero, the likes of Superman or Spiderman, Children's Costume Specialist has got your back. The company also offers ballet costumes, occupation costumes, animal costumes, and accessories. Children's Costume Specialist is indeed a one-stop-shop for all your children's costumes. The good news is that they currently have an online presence where you can easily browse through the costume varieties for your child to choose what they like.
12) Miiostore Costumes
Do you want to rent costumes for the lowest price in Singapore? This popular costume shop is ideal for parties, events, and performances. Choose Miiostore Costumes and save yourself the trouble of looking for clothing that fits your budget. At Miistore, you'll be certain to discover clothing based on your fantasies, including marvel superheroes, fairy princesses, and monsters.
Although Miiostore only provides services online, all customers are entitled to at least three days of rental. They also make certain that costume delivery is completed the same day if you want to try it out before renting from their workplace.
13) Costume Star
Costume Star offers a huge range of costumes for all ages. Once you've been, you'll fall in love with the shop. Costume Star provides bespoke, one-of-a-kind rental clothes in a variety of themes. From Bollywood and Disney princesses to superheroes and scary Halloween characters, Costume Star will have your back.
It caters to both children's and adult costumes. The apparel is of excellent quality and design for individuals who enjoy bespoke costumes. Costume Star is the ideal location in Singapore to rent your costume because it has over two decades of expertise in the clothing sector. When you pick Costume Star as your costume rental business in Singapore, you'll guarantee an outstanding outfit and an incredible experience for your children.
14) Global Mascot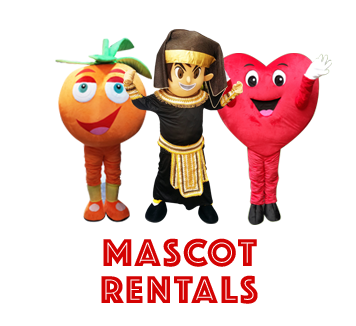 Global Mascot is a costume shop that specializes in providing costumes for all seasons and occasions. Global Mascot is a wholesaler, supplier, and maker of outfits, mascots, and soft toys products.
This is the store for you whether you enjoy mascot costumes such as dolphins, bananas, tigers, or movie character fans like Han Solo and Captain Jack Sparrow. They specialize in national costumes, making them a great location to find costumes for specific holidays or Chinese New Year celebrations. The option is yours whether you want to rent or buy that exquisite costume and accessories.
15) The Costume Rentals
Moephosis Concepts is the ideal solution for your costumes if you enjoy weddings and parties. The costume rentals business has a selection of dresses that have been recognized and received several accolades. So you can be confident in the design. If you do visit, there are numerous elegant boutique outfits available for a date. Their collection also includes beautiful gowns, and great dresses.
Moephosis offers high-quality costumes that are a perfect complement to your party and event wardrobe. This is also an opportunity for you to hire a professional artist if you know nothing about cosmetics to give the wonderful paintwork you deserve. What do you think? Because Moephosis has arrived, your production doesn't have to be dull.
Costume Rentals Singapore
Costume Rentals Singapore are the perfect solution for costume-seekers looking to dress up in something new and exciting. They provide the opportunity to explore different looks without breaking the bank. Singapore has no shortage of costume shops - so what are you waiting for?
Do email us at media@thefunempire.sg if you wish to be featured in our articles!