Best Korean Language Centres in Singapore [2021]
August 2, 2021 by The Fun Empire Team
Korean Language Centres Singapore
Have you always dreamed of learning Korean, but have not had the chance? Korean is one of the most popular languages in Singapore. Korean culture has been growing in popularity and is now a part of pop culture. K-dramas are all over TV screens and Korean music can be heard on the radio. You may feel that it's time to take your Korean skills to the next level by enrolling in an intensive Korean language course with a reputable institution. Read on for the Best Korean Language Centres in Singapore. For more similar articles:
1) Seoul Korean Language Centre
Key Services
Korean Language Courses
Website
www.seoulkorean.sg
Address
208 Hougang Street 21 #02-209 S530208
Phone
9721 2433
Email
help@seoulkorean.sg
Operating Hours
Monday to Thursday: 11am to 10.00pm
Saturday and Sunday: 11.00am to 6.30pm
Closed on Fridays
Seoul Korean Language Centre specialises in interactive and conversational Korean language classes. Korean language is not a flat formula that can be simply written on a whiteboard. They do things differently here. Instead of monotonously quoting textbooks and making students take down notes, they encourage them to speak to one another in Korean. They make new materials beyond textbooks so that students are exposed to various conversational practices.
Activities are assigned every lesson so that they can apply the new Korean grammar they have learnt minutes ago. The Korean language is something more than just reading textbooks and is acquired by accumulative real-life practices. Its mission lies in helping students to sustain learning the Korean language with effective and fun practices.
Key Differentiators
Interactive and Conversational
Qualified Teachers by the South Korean Government and National Institute of Korean Language
TOPIK Syllabus
Client Testimonial
This has to be one of the best Korean classes I've taken. After doing some online, this class was very fun! Not only were the materials good, but the teacher was also very engaging and made us use Korean more than I could ever have imagined!

Alphonsus Yong
2) iSpeak Korean Language Centre
Key Services
Provide both in-class and online Korean Language Course:

- Standard Course: Basic, Pre-Intermediate, Intermediate, Pre-Advanced, Advanced, and Master.
*The syllabus is designed closely aligned to the TOPIK (Test of Proficiency in Korean) exam.
- Special Course: Advanced Conversation Course, Basic Conversation Course, TOPIK, Business Conversation, Revision Course
- Customized Course: Private / Small group class, Corporate class

iSpeak Korean Language Center offers our Standard and Special Courses in a variety of curriculums, including Basic to Master course, Advanced Conversation Course, Business Conversation Course, etc. We are also offering personalized lessons that can be conducted via face-to-face lessons and video conferencing lessons.
Website
https://www.ispeak.com.sg/
Address
1 North Bridge Road, #15-09 High Street Centre, Singapore 179094
Phone
9117 5805
Email
contactus@ispeak.com.sg
iSpeak Korean Language Centre was set up by professional native Korean teachers with years of experience teaching in NUS, NEX and Korean Tour Organization in 2014. Their teachers are all native Koreans with a teaching certificate and well trained as well, and they believe that an informative and entertaining learning environment is the best for students, and it can be achieved by creating a dynamic classroom where students are encouraged to interact with their peers both as an entire class and in smaller groups.
With their systemic and rich experience teaching, they create lively exercises which promote movement and interaction while still remaining focused on the topic at hand is enough to spark very active conversation. Speaking a new language is also not just about memorizing the vocabulary, grammar and sentence structures. The most important part of it is culture! Here at iSpeak Korean, you will learn about the Korean culture from customary practices to Korean history, you will also gain insights into what it feels like to be a Korean.
Key Differentiators
Qualified native teachers: our teachers are all native Koreans with a teaching certificate
Holistic syllabus: Our Basic to Master level lessons cover speaking, listening, reading and writing Korean which helps each other to improve your language skills
Fun and Interactive: We offer opportunities to our students to experience Korean culture through our Standard Courses and Events session such as hanbok experience, folding paper hanbok, making Korean food, playing yut nori (Korean traditional play) and other activities. We believe that learning a language is not just about learning the vocabulary and grammar, but also experiencing the culture and lifestyle at the same time
Client Testimonials
I have been with iSpeak Korean Language Centre for almost a year and I would say that I have enjoyed myself very much while learning Korean here. The teachers are really friendly, approachable and is always patient in teaching the students. They also encourages students to read aloud (something that I was really weak in previously) and this helped us build our confidence in speaking Korean. I will strongly recommend people to learn Korean with iSpeak Korean Language Centre!

Carine Lym
3) Hanok Korean Language School
Key Service
Providing fun and effective Korean lessons.
Website
https://digital.hanokkoreanclass.com/
Address
Blk 133 Jurong Gateway Road #04-293, Singapore 600130

10 Anson Rd, #03-55 International Plaza, Singapore 079903 (By Appointment Only)
Phone
6564 1234 / 9784 5228 (SMS)
Email
Hello@HanokKoreanClass.com | hanokkoreanclass@gmail.com
Operating Hours
Monday to Thursday: 4PM to 10PM
Sunday: 10AM to 2PM
Friday & Saturday: By Appointment Only
Closed on Public Holidays
Established in 2010, Hanok Korean Language School has provided thousands of students innovative ways to learn how to read, write and speak Korean. Their syllabus focuses on helping students living outside Korea to speak and communicate effectively in Korean with engaging, fun and easy-to-follow classes for a great learning experience.
They are a Korean Language school based in Singapore that offers Korean Language online lessons in a fun, effective and interactive way. Their mission is to make YOU speak Korean. They are determined to be the best digital Korean Language school to help Korean learners all over the world to speak Korean confidently. Their specialty is teaching students all over the world who are living outside Korea to not just know grammar and vocabulary but to speak Korean effectively through our structured online lessons.
Client Testimonials
Have been taking this class from the start. The class is very encouraging and the lessons are exciting to help you in learning the language well. Teacher Wann also comes up with videos to help us learn. Thank you for the effort in making the lessons interesting and engaging for us students. Definitely a recommend.

Hafiz Jamal
4) Daehan Education Centre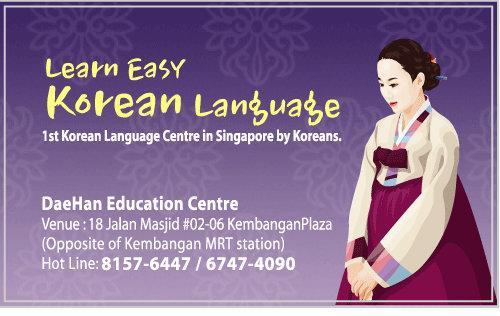 | | |
| --- | --- |
| Key Services | Singapore's First-Ever Korean Language School Established and Run by Native Koreans |
| Website | https://daehankorean.com/ |
| Address | 8 Jalan Masjid #02-01 and #02-08 Kembangan Plaza Singapore 418944 |
| Phone | 6747 4090 / 8157 6447 |
| Email | admin@daehankorean.com |
It all began in 2006 when along with their Education Director, their Principal and Head Teacher, decided to put all into establishing the first-ever Korean Language Centre in Singapore owned and run by native Koreans. Over the past 15 years, they have grown tremendously and are extremely proud of their achievements. With over 2000 students and a faculty size of more than 25 dedicated teachers and staff members, they are currently one of the largest and most established Korean language schools in Singapore. They pride themselves on an effective and dynamic curriculum, successful educational achievements, and highly qualified and experienced teachers.
Client Testimonials
Having a partner who is Korean, whose parents struggle with the English language makes it hard for me to have a simple conversation with them. Through their classes, my partner has commented that my Korean is good enough for simple day to day conversations and thinks that the progress I've made through Basic 1 is really worth the money! The teacher (Halim) has also made classes enjoyable, interesting and fun. Will recommend this to anyone who is after Korean lessons 👍

Isaac Soh
5) Sejong Korean Language School
Learn Korean language at Sejong Korean Language School (Singapore), the top rated Korean language school in Singapore since 2012! They are an MOE registered Korean Language Centre with headquarters located a minute's walk from Tanjong Pagar MRT station. They offer a range of Korean courses from basic for beginners to advance level classes. Learn to speak Korean language with their native Korean teachers who deliver systematic, structured yet fun and enjoyable Korean lessons!
Sejong is the only Korean language school in Singapore that actively scouts for 100% of their teachers from the top universities in Korea. They have active partnerships with the biggest and best recruitment agencies in Korea as well as liaisons within the top Korean universities for direct hiring arrangements. Each recruitment round is highly competitive with each candidate carefully hand-picked via multiple rounds of shortlisting and recruitment.
Client Testimonials
The teachers are so professional, patient and passionate. Just finished Beginner and going to start intermediate lesson. Totally enjoyed the lesson and looking forward to attend the class every week! Highly recommended this school for anyone who looking to learn Korean.

Hyukmihae
Korean Language Centres Singapore
Whether you want to become fluent or just brush up on some Korean phrases, there is a course available that will suit your needs and budget. For those who have always wanted to learn Korean but haven't had the chance because they didn't know where to start, this list can help point them in the right direction!
Do email us at media@thefunempire.sg if you wish to be featured in our articles!