Best Serviced Apartments in Singapore [2021]
July 16, 2021 by The Fun Empire Team
Serviced Apartments Singapore
Staying in a serviced apartment gives you more space at a cheaper rate than an equivalent standard of a hotel. Time to find a place where you can have all your needs met without having to worry about anything else! And that place is a serviced apartment in Singapore.
With so many options, it may be hard to know which one is right for you. That's why we've put together this list of what we think are the Best Serviced Apartments in Singapore. Take a look and see if any of them would fit into your budget or lifestyle! For more related articles:
1) ST Residences
Key Service
A one-stop solution to furnished serviced apartments island-wide, providing quality accommodation with contract flexibility and competitive rate, making the stay fuss-free for both individuals and corporates.
Product Highlight
ST Residences Novena
Website
www.stresidences.com
Address
Head Office
180B Bencoolen Street, #11-01, The Bencoolen, Singapore 189648
Phone
9698 5918
Email
enquiry@stresidences.com
Operating Hours
9:00am to 6:00pm (Mon to Fri)
Established in September 2017, ST Hospitality Pte Ltd ("STH Group"), previously known as Straits Organization Pte Ltd, is a wholly-owned subsidiary of Katrina Group. STH Group runs various lifestyle brands, i.e. ST Residences and ST Signature.
STH Group had served more than 30,000 guests in the serviced apartments and hotel rooms. Guests can choose from hotel rooms for daily stay, serviced apartments for a weekly stay or corporate housing for a long-term stay. In addition to that, with a single point of contact, STH Group makes guest booking completely fuss-free.
In a short span of time, both ST Signature and ST Residences have achieved Hotels.com "Loved by Guests" 2021 award winner, Booking.com Traveller Review Awards 2020 with excellent ratings and Agoda 2020 Gold Circle award winner. This is the motivation for ST Hospitality to continue going the extra mile and providing value-added innovations and services.
Key Differentiators
Contactless Check-In and Check-out Process
Contract Flexibility for Length of Stay
Fully Furnished Apartments
Client Testimonial
"The place is clean with all the necessary amenities. Great to have a dining table, fully equipped kitchenette with fridge and electric stove, all in the same room. The whole unit is spacious including the bathroom. Also happy to have "make room" service and a laundromat in basement and detergent provided.
The check-in and check-out was smooth. Friendly and responsive service. High recommended."

loannaP
2) Great World Serviced Apartments
Located just 10 minutes away from the Central Business District and Orchard Road, Great World Serviced Apartments offers 304 fully furnished apartments with a wide range of accommodation options for singles, couples and families with kids and pets. Situated along Zion Road, right next door to Great World shopping mall and office tower, everything you need is just a stone's throw away.
Choose from a variety of spacious 1 to 4 bedroom apartments or settle down in one of our penthouses, where the city skyline beckons. Suitable for flexible stays from a week to a year, each well-appointed apartment is furnished and equipped with essential amenities and a fully functional kitchen, providing ease of integration with the comforts of home. To support an active lifestyle, our extensive range of facilities include a near Olympic-size Outdoor Pool, Jacuzzi, Steam Room as well as a fully equipped Gym, Tennis and Basketball Court.
Key Differentiators
Largest serviced apartment in Singapore offering a comprehensive range of apartment types.
First local serviced apartment to receive BCA Green Mark award.
Winner of Singapore's Leading Serviced Apartments in World Travel Awards 2020.
Client Testimonial
Home away from home for 5 months - super welcoming staff and convenient location, great pool.

"I stayed at GWSA for ~5 months when I relocated from Aus to SG for work. Despite it being COVID and a strange time to relocate, the staff made me feel home away from home. They were super helpful with any request I had, and the service was brilliant, one time my A/C had broken and it was fixed within an hour. The pool is fantastic (nearly 50m!), and there are tennis and basketball courts also.

Unfortunately the gym was shut for some of my time there due to COVID but was a good facility when I did go. The location is perfect. Above Great World shopping centre, easy for groceries, and right near Zion Hawker for good food. You are basically on the river which is perfect for walks. Don't be put off by the lack of MRT nearby, there is a daily shuttle to the CBD which takes ~10 mins, and you can walk back along the river. Thanks to all the team at Great World for a wonderful stay."

Caitlin W
3) Heritage Collection
Heritage Collection Singapore is a homegrown boutique hotel chain and serviced apartments provider. Their exclusively curated properties and personalized services make them your accommodation of choice. They offer a modern and cosy space, stocked with all the essentials needed for your stay.
Client Testimonial
"Excellent service; cleanliness, comfort, staff and location accessibility are excellent. Shoutout to accomodating and friendly staffs Jarwin and Arynna."

Aline
4) Le Grove
Le Grove Residences, one of Singapore's premier serviced apartments, has been revamped from the bottom up to the tune of more than $30 million, elevating both exteriors and interiors to greater levels of refinement and comfort.
Nestled within a tranquil residential area, Le Grove Serviced Residences is just a short walk away from Orchard Road, Singapore's iconic shopping and entertainment district.
Client Testimonial
"Comfort, clean, all facilities and very close to the heart of Singapore. You will not go wrong by choosing to stay at Le Grove. Everything is provided in the serviced apartments for your stay."

Muhammad Azeem
5) The Secretariat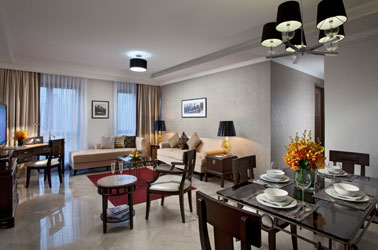 The Serviced Apartments Association (SAA) was established in February 2000 as a private sector representative organisation in Singapore. SAA's membership is open to companies that own, develop or manage serviced apartments in Singapore. Members of the SAA are required to meet the operating standards defined by the association and the Urban Redevelopment Authority, Singapore's land use planning and conservation authority.
There are currently 13 corporate members represented in the SAA. Collectively, they offer a wide range of serviced apartments across Singapore. These apartments are of varying sizes; provide convenient access to different parts of Singapore; offer quality service and are extensively furnished to make visitors feel at home.
Serviced Apartments Singapore
Serviced apartments are a great way to save money and get more space for your needs. There is an apartment that will suit any lifestyle or budget, so take some time to find the serviced apartment in Singapore that works best for you! Now that you have come to the end of the article, do check out the activities we provide as Singapore's No.1 Team-building Company!
Do email us at media@thefunempire.sg if you wish to be featured in our articles!